Even though we are in a remote location you are able to drive directly to our camp, either through Manitoba (via Winnipeg) or through Saskatchewan.
If you are flying, it is most convenient to fly into Saskatoon and rent a vehicle for your 420 KM drive to camp.
Orientation "Bear Facts"
When you arrive at camp you will get settled in, sight in your weapons, and get all the licenses straightened out for the hunt.
Each hunter will be provided with the basic information of your hunt, and meet the guides and camp staff.
All bait locations are pre-baited at least a month before the hunter's arrival and continued throughout the hunting season. This ensures that all bait sites are fresh and active and will have multiple animals routinely feeding from them. Our hunting stands and blinds are placed appropriately for bow, muzzleloader and rifle hunters.
Hunters may hunt from a ladder stand, hang-on stand, self-climber stand, heated box blinds or ground blind. We hunt from tree stands with shooting lanes cut to the baits. We use natural vegetation to conceal our ground blinds. Bow hunting stands are typically 15 yds on average and a typical distance of 40-60 yards for rifle hunting. These are placed to allow the hunter the opportunity to accurately judge the size of the animals and ensure they are satisfied with their trophy.
Bottom line, we take our job seriously and do it very well.
100% Opportunity  – 35% Colour Phase Bears – Success is in your Shot!
When the hunt is completed for the day we pick up the hunters and start listening to the stories! In the spring once tags are filled there may be an opportunity to go fishing to fill the remaining days. In November deer season, after you have filled your tag you may have the opportunity to experience a day on a trap line!
Check the weather forecast prior to your trip.
Look over the Saskatchewan Hunting Guide for more hunting information.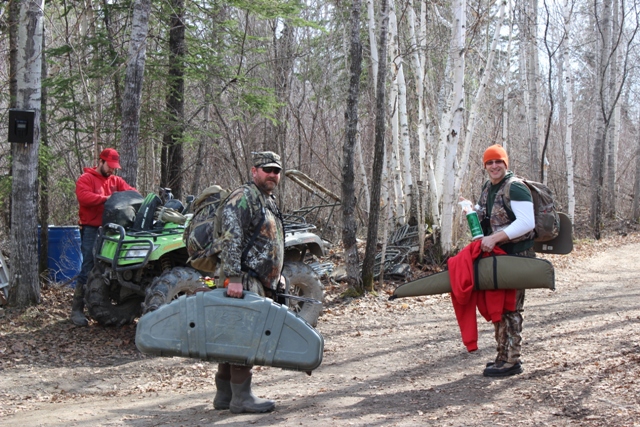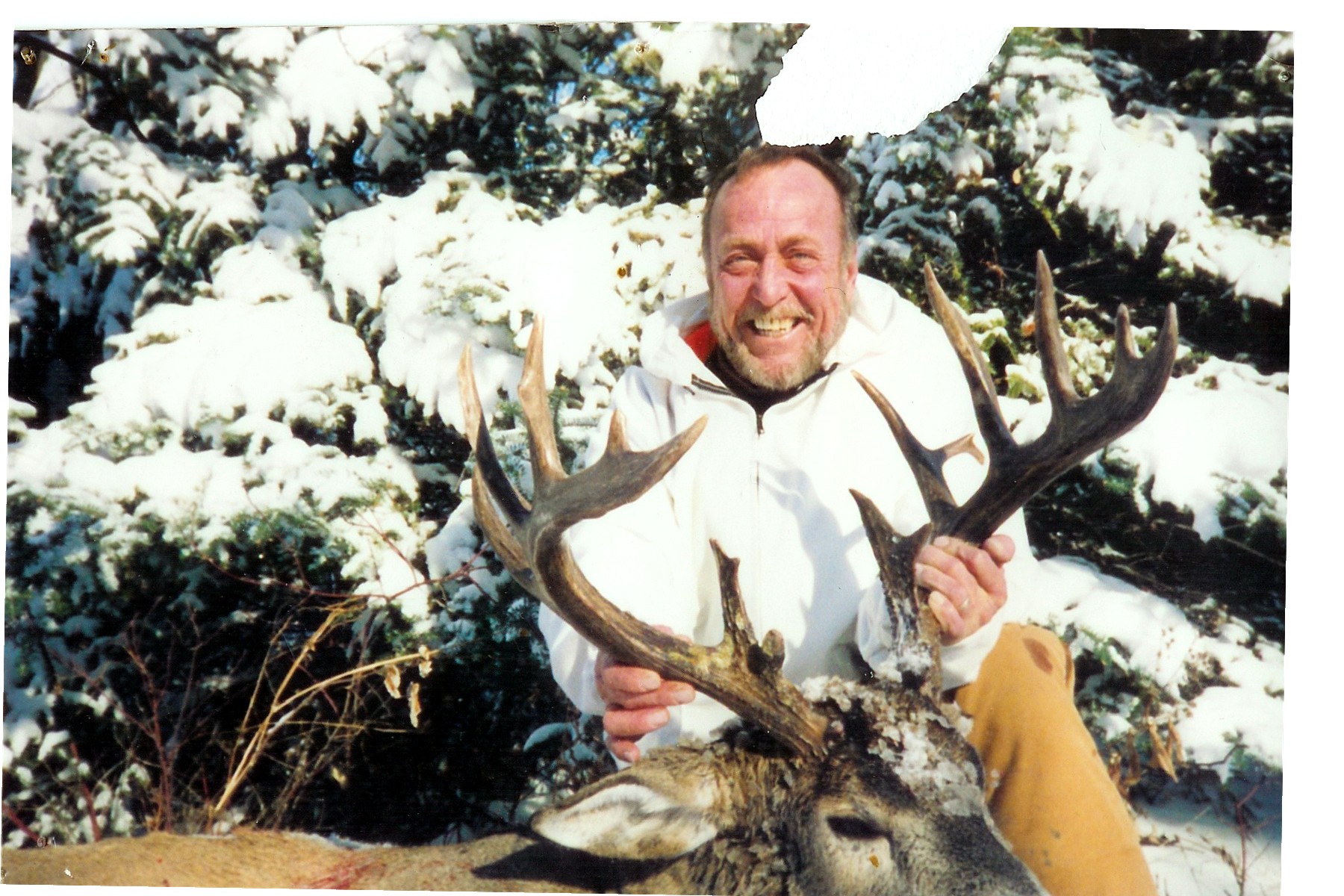 Explore Our Area Accommodations
We are second to none.
Our Rates
Coming alone or hunting with friends? Find the best package for your trip.
Hunter Checklist
Know what to bring before you go with this handy checklist.
Firearms Information
What you need to know about firearms in Canada before you arrive.
Accommodations
At Bear Country Outfitters, we offer one-of-a-kind experiences.
We have electricity, showers and toilets so although we are remote this is far from roughing it! All meals are provided in the base camp lodge.
You will be served a variety of tasty home-cooked meals that are prepared fresh. The only problem our guests ever mention is that they put on pounds during their hunt!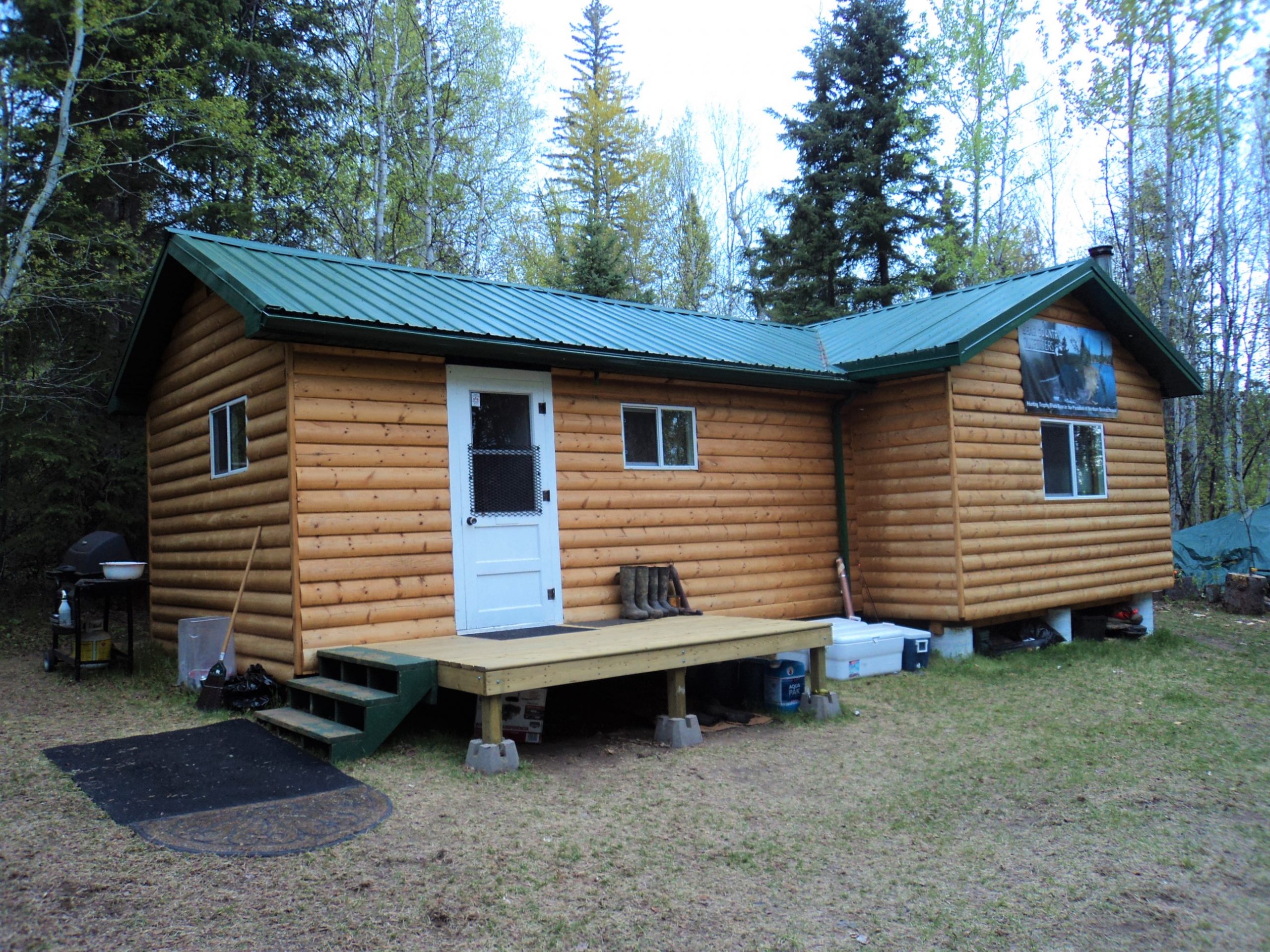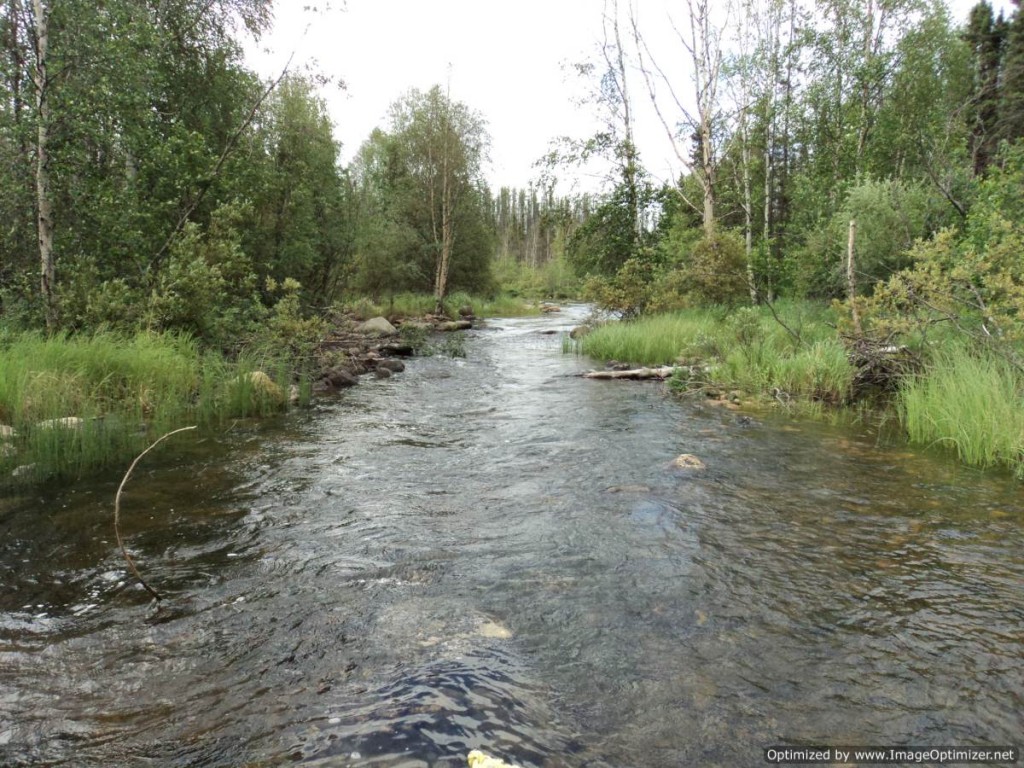 Location
Bear Country Outfitters is remotely located north of Hudson Bay, Saskatchewan. Our exclusive outfitting area covers over 350,000 acres of hunting territory of remote wilderness of forest, dense bush, and many lakes and rivers. Situated in the midst of the Pasquia Hills, some of our area also borders the protected Wildcat Hills Wilderness Area which is a huge reservoir of trophy game.
Cabin
The newer hunters' cabin can accommodate you and your family or hunting party. The unit includes three bedrooms, electricity, a wood burning stove, and a spacious living area perfect for entertaining and relaxing.
Sleeps 4-8
Weekly Bookings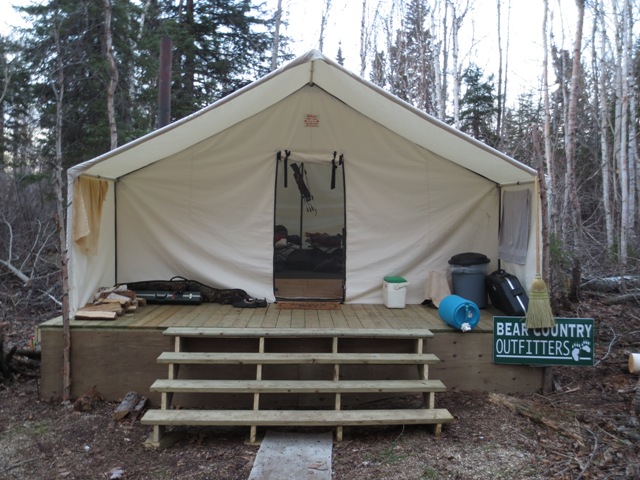 Outfitter Wall Tents
Looking for a unique experience during your stay in this woodland paradise? You are in luck!
Make lasting memories in one of our Wall Tents today!
The bathroom and shower are located in separate buildings.
Sleeps 6
Weekly Bookings
Our Rates
Whether coming alone or hunting with a group, we offer Spring & Fall Bear Hunts and Fall Deer Hunts.
Our All-Inclusive Hunting Packages include the following:
BEAR – 5-day hunt package (Sunday arrival, hunt Monday to Friday)
DEER – 6-day hunt package (Sunday arrival, hunt Monday to Saturday)
All MEALS
ACCOMMODATIONS in either a cabin or wall tent
Fully guided service
Transportation to and from hunting locations via ATVs, Argos, and boats
All tree stands and ground blinds
Active baits
Trophy preparation which includes caping, freezing, and quartering of meat
Taxidermist arrangements can be made upon request
Not Included:
Hotel costs before and after the hunt
Gratuities
Coolers for transporting hides & meat
HUNTING RATES – CONTACT US FOR PRICING
Group rate pricing is available
Youth rates contact us for details
1 on 1 Hunter/Guide additional fee
Terms & Conditions
All hunts are in US funds.
A non-refundable deposit of $1,500 US per hunter is required to secure your spot.
All deposits are non-refundable but can be transferred to a new client for the same booking time.
Final payment is due two months before or upon arrival.
All payments must be made in guaranteed funds only. We accept bank drafts, cashier's cheques, traveler's cheques, cash and money orders for deposits and payments.

An adminstration fee will be added for the use of PayPal. Please contact us for details.

But because things happen in life that are beyond our control, we recommend that you purchase a trip cancellation insurance policy. We cannot insure any of your trip costs nor related expenses for you.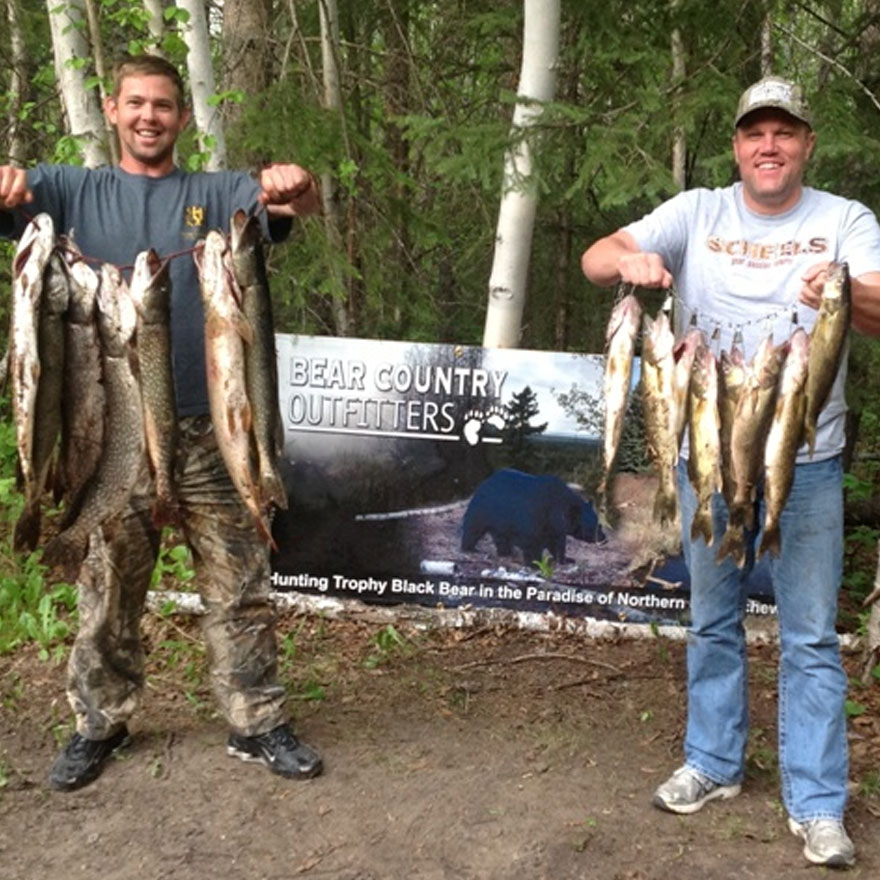 Fishing
Looking for something a little extra? Then get your waders ready! Not only would you have the chance to experience a great hunt with us, but in the spring you also have the opportunity to fish for large Northern Pike and the tasty Walleye in our pristine waters! All you have to do is get your own fishing license and go on your way.
It's time to grab your fishing rod and cast off!
Hunter Checklist
To help you plan we've made a checklist for you!
Hunting clothes (we suggest layered clothing to accommodate the changing weather – from nice spring days to very cool evenings)
If you are rifle hunting you must have a white, red, or blaze orange jacket or vest and an orange or red hat (white or orange camouflage is not acceptable), this is required by law
Rain gear, hunting or waterproof boots, warm hat, gloves
Bug jacket, mosquito hat/face net (not required, but suggested)
ThermaCell and refills (these are indispensable!)
Any cover scent or lure you like to use
Protective case for weapon – soft case preferred for travel to/from stands
Seat cushion
Tree stand safety harness
Camera
Binoculars not required
Personal care products including towels
Sleeping bag & pillow
Slip-on or light shoes to wear around camp, for in and out of cabins
All meals are provided but feel free to bring any snacks you like
Favorite spirits/mix & bottled water
Fishing equipment for pike and walleye if you wish to fish
Firearms Information
About Bringing Firearms into Canada
There are federal (Canadian) firearms regulations concerning ownership, ammunition, transporting, first-served, and bringing firearms into Canada.
You will have to submit a Non-Resident Firearm Declaration form RCMP 5589 / CAFC 909 upon first entry into Canada. You should have the form filled out in triplicate before your arrival, but DO NOT SIGN it until you are met by a Canada Border Services Officer, who will ask you to sign it at that time.
Please go to Non-resident section of the Canadian Firearms Program page of the RCMP website to print off the declaration form or phone them at 1-800-731-4000 for information concerning your firearm.
DO NOT attempt to bring any handguns into Canada.